Home to almost 19% of Australia's citizens, Melbourne is one of the most populated cities in Australia and boasts population numbers that rival Sydney, the nation's capital.
A diverse and charismatic city, there's always something to do here in Melbourne no matter what your interests are.
If you're looking to sample some of the best Australian cuisines the country has to offer, get a thrill from driving a race car in Melbourne, or enjoy the lush mountain scenery, Melbourne delivers.
Not sure where to start? Start with our list of the top 21 awesome things to do in Melbourne.
1. Drink the World's Best Coffee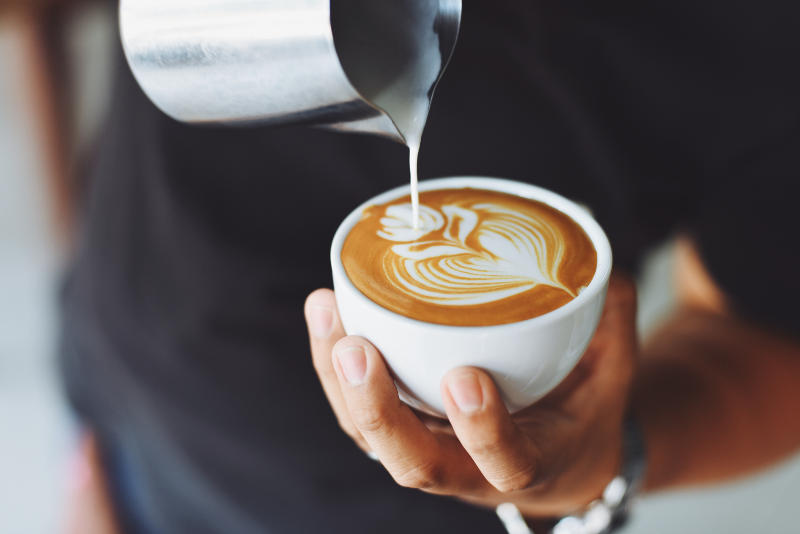 The people have spoken. On popular website booking.com, Melbourne was voted as having some of the world's best coffee, beating out some of the old metropolis coffee masters Rome and Vienna.
People drink coffee for the caffeine, the taste, and the social aspect. There's nothing quite like heading down to the local Melbourne coffee shop for a jolt of caffeine to wake the senses while you meet up with friends, make some new ones, or take advantage of the free WiFi.
Fortunately for Melbourne's visitors, it's tough to find a bad cup of coffee in this city, where the baristas are knowledgeable and committed.
As the world leader in coffee and cafe culture, Melbourne is proud to call itself the home of the world's best coffee. But don't be surprised if you run into a few coffee snobs or turn into one yourself.
You might also want to take note that cafes all the way over in London will advertise that they've hired baristas from Melbourne, as these coffee pros have brought their high standards and industry know-how to other countries around the world.
How else do you know you that Melbourne coffee is as good as they say? The city also hosts a coffee expo, where renowned baristas have dubbed Melbourne's coffee culture as incredible and one-of-a-kind.
For coffee lovers, sampling the java is one of the most fun things to do in Melbourne.
Fancy a coffee tour? You're in luck when you visit this city. While it's true that you can find some of the best coffee in the world just wandering the city streets, you can also take advantage of Hidden Secret Tours Cafe Culture tour and try some of the most memorable morning brews in Australia, and the world.
Don't forget to check out Patricia over on Little Bourke Street.
2. Spot Penguins on the Beach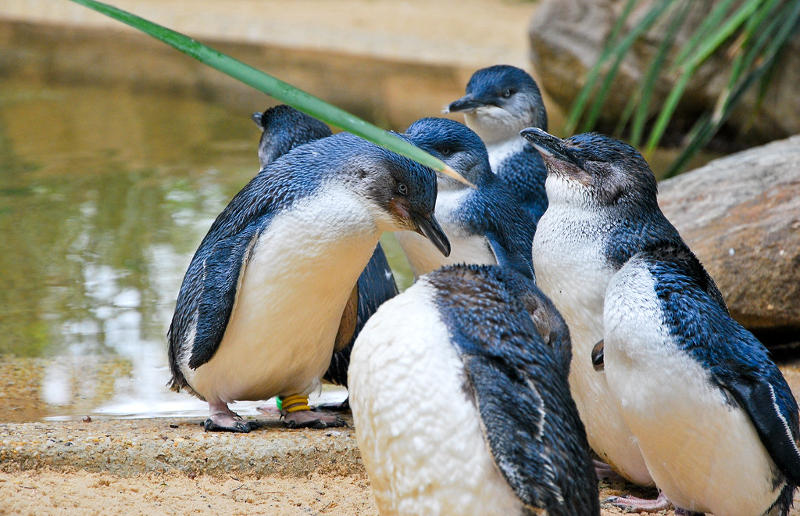 Source: https://www.flickr.com/photos/maywong_photos/4434177713
Australia is home to some of the world's most interesting wildlife. And by interesting, we mean deadly. It's where the devil keeps his pets. But don't let that scare you.
While Australia's impressive array of dangerous animals get the most press, in Melbourne, you'll have a chance to see some of the country's cuter and more or less harmless animal denizens.
St Kilda is a suburban community within the metropolitan area of Melbourne with beachside property. Tourists and locals who like to participate in outdoor activities, jogging and backpacking will enjoy the scenery, the hustle and bustle, and architecture on St Kilda Esplanade.
Fine dining restaurants and old European cake shops line the strip, with historic sea baths and Victorian-era mansions casting shadows that hearken back to the area's boom-time. Excellent food, community gardens, and a thrilling nightlife scene make visiting St Kilda one of the best things to do in Melbourne.
But not so fast.
Nature lovers and those who prefer a slower pace to their sightseeing adventures can also check out the St Kilda beach.
There's a pier, charming Victorian beach houses, and a colony of penguins that call St Kilda their home. Established in the 1970s, the St Kilda penguin colony come back to the beach right after sunset every night, all year round. But, you'll spot more of them during the summer months.
Got a burning question about the penguins? Melbourne delivers with a team of penguin guides who are on-duty during the day to answer any penguin questions you have. The St Kilda penguins are the most popular of the St Kilda residents. Their eggs, chicks, and nesting sites should be respected, so you don't want to get too close to these crucial areas.
3. See Flinders Street Station and Federation Square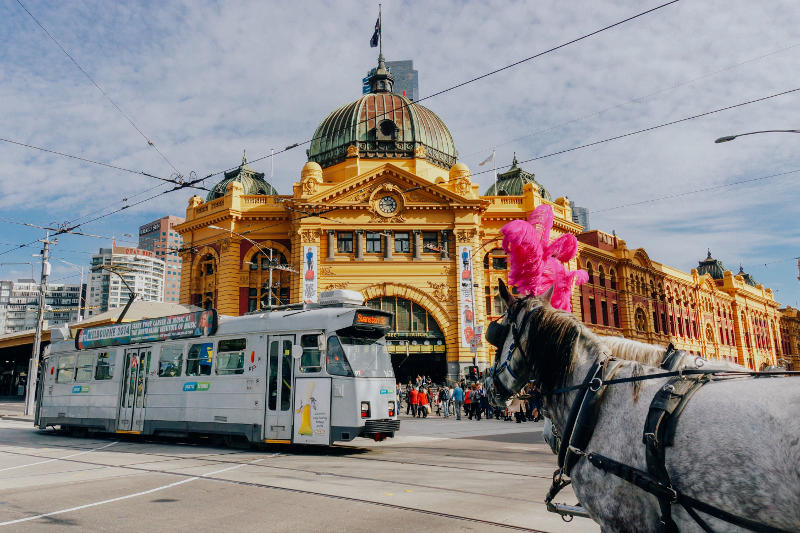 Source: https://www.flickr.com/photos/maywong_photos/4434177713
Flinders Street Station is a cultural, photogenic masterpiece, often featured in brochures, postcards, and other tourist materials for Melbourne.
The building is listed on the Victorian heritage register and was reported to be one of the busiest passenger stations in the world back in the 1920s.
Go inside, and you'll find the railway station still busy. Gift shops and eateries line the station halls as well.
The station is located across the street from Federation Square, another iconic place in Melbourne that you'll have to see before heading home.
The architectural design of both Flinders Street Station and Federation Square are unlike anything else you'll see in the world.
If you're a fan of claymation and art, check out the Australian Centre of the Moving Image and the Ian Potter Centre Art Gallery before leaving Federation Square.
4. Ride on the Puffing Billy Railway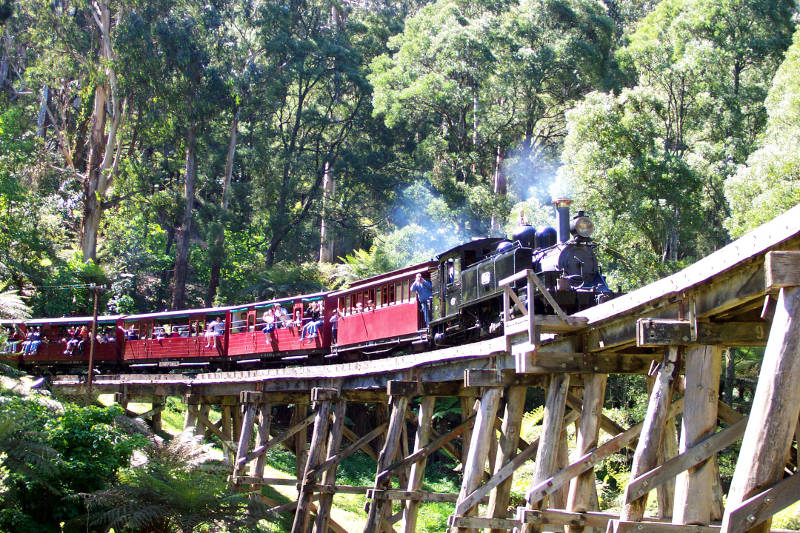 Source: https://www.flickr.com/photos/jwbenwell/13980367715

All aboard The Puffing Billy Railway, one of Australia's most popular steam trains.
It's a great, memorable Melbourne activity you'll have to add to your to-do list.
Puffing Billy is one of the most well-preserved steam railways in the entire world with more than a century's worth of age on it.
This antique steam train still runs on the original mountain track, going from Belgrave to Gembrook in the iconic Dandenong Ranges, about 40 km east of Melbourne.
Speaking of the Dandenong Ranges, we hope you're not too enamored with your breath.
You'll lose it when you go bushwalking in this gorgeous mountain range, situated on the outskirts of Melbourne. Nature lovers, bird lovers, cyclists, and hikers have to check it out before leaving Melbourne.
Within the range, there are dozens of quaint little towns, mouth-watering farm-gate produce, and of course, the Puffing Billy train.
5. Take High Tea at the Windsor Hotel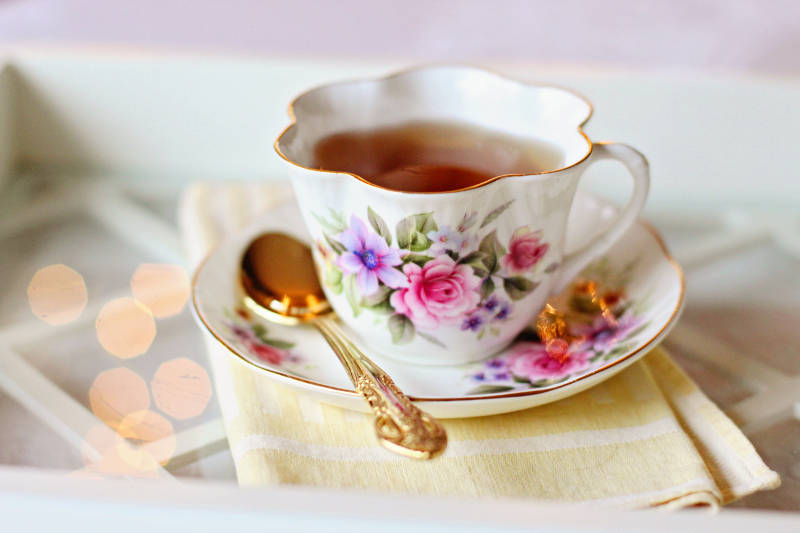 Go ahead – indulge yourself. The coffee lovers shouldn't have all the fun while in Melbourne.
If you're a tea lover, you must get a taste of a quintessentially English tradition at the Windsor Hotel.
Learn the history of this British pastime, and get a lesson in English table manners for the afternoon cuppa.
What's the prim and proper British way to hold a napkin? And how do you not indulge in tier panic syndrome?
Learn all that and more when you visit Windsor Hotel for high tea.
6. Ride a Tram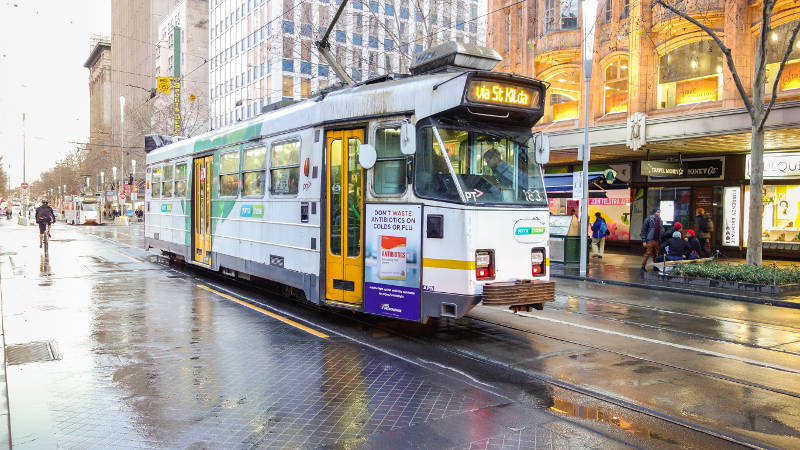 You don't need a college degree to ride a tram in Melbourne. Riding the tram is as easy as picking out where you'd like to go when deciding on the next big thing to do in Melbourne.
With the first tram beginning operation and 1889, Melbourne's tram network is one of the oldest, and few remaining tram systems around the world.
And with a selection of trams ranging from older more traditional historic trams, to modern "bendy" trams, you're sure to enjoy the experience.
Melbourne's trams are also a convenient way to get your way around to local attractions, and there's even a free "City Circle" tram, featuring some of our best historic trams, that runs constantly around the CBD, with easy to understand maps and even a special restaurant tram for those who want something extra special.
If you stick to the CBD, your tram ride is free, but keep in mind that if you venture further afield, you'll need a Myki Smartcard.
Unfortunately, you can't pick one up at the tram stop, but instead, you'll need to buy your Myki Smartcard online, at a 7-Eleven store, or at one of the many Premium Railway Stations.
7. Explore Crown Casino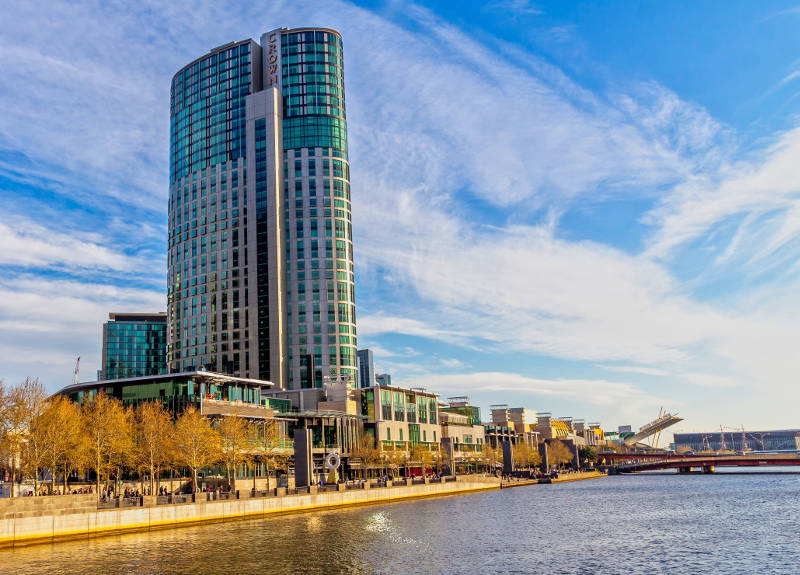 Go ahead – we know you want to.
The Crown Casino is part of a massive casino and resort area, located next to the Yarra River here in Melbourne, south of the CBD.
If you like the fun, excitement, and atmosphere of the casino, you won't be disappointed when you visit Crown.
It's one of the biggest casino complexes in the southern hemisphere and also one of the biggest in all of Australia.
It's only closed on three public holidays a year, so you can head on over any time during the week at all hours of the day (and night) if you so choose.
Even if you have someone in your party who doesn't like gambling, there are excellent places to shop for that perfect souvenir within the complex.
There's also a wide range of restaurants to sample, as well as a bustling nightlife. Don't forget to check out the Atrium, with fountains, sound and light shows, and pyrotechnic towers.
8. Visit the National Gallery of Victoria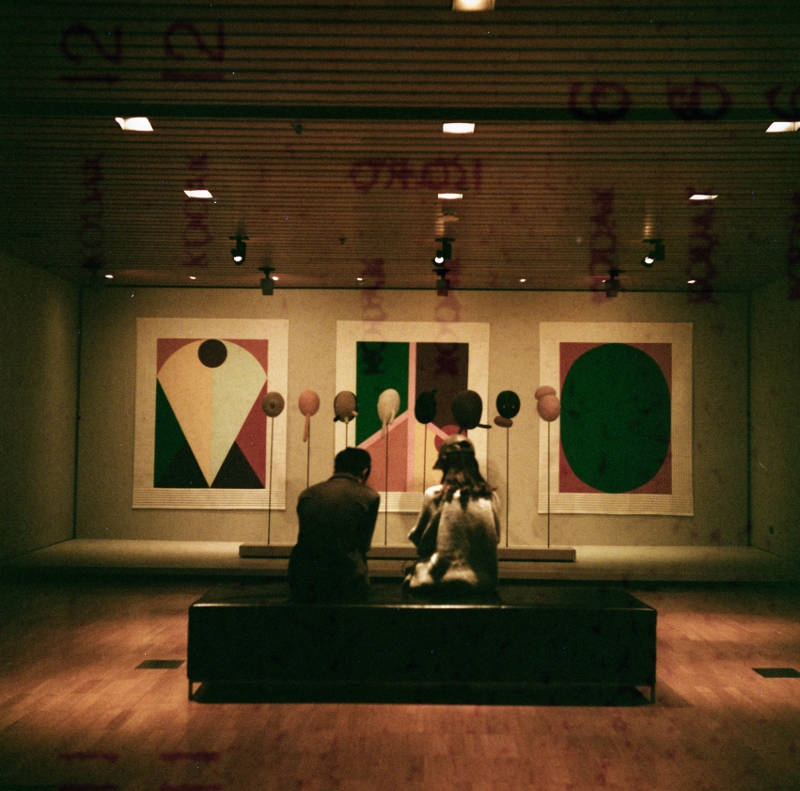 Simply referred to as the NGV, this art museum was founded back in 1861.
It's the oldest and most visited art museum in Australia. Visitors should be aware there are two locations; the NGV on St Kilda Road, and the NGV Ian Potter Centre in Federation Square that we mentioned earlier.
Art enthusiasts will enjoy the selection of international fine art, photography, Australian art, and prints and drawings.
The NGV on St Kilda Road was the scene of the infamous Picasso theft in 1986.
Fortunately, Picasso's Weeping Woman was found two weeks later, undamaged, and returned to the museum.
9. See a Ghost at Old Melbourne Gaol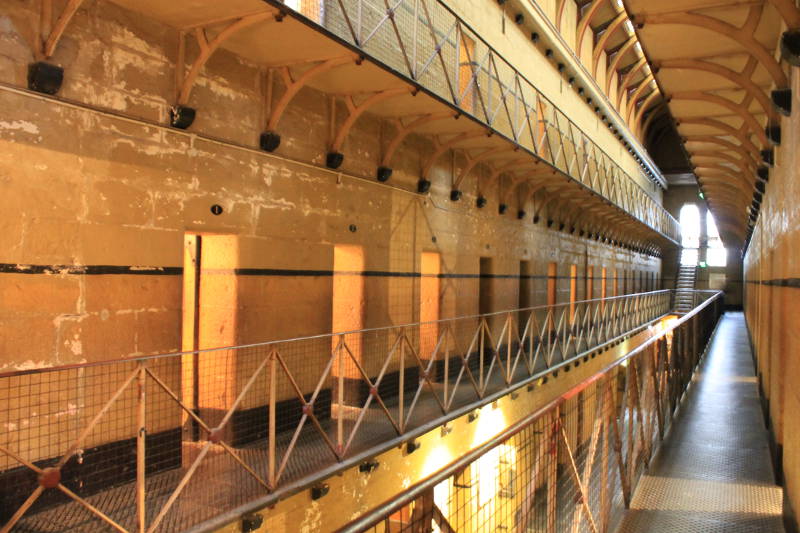 Source: https://www.flickr.com/photos/100780486@N02/14743833594

Don't believe in ghosts?
Don't fear – visiting the Old Melbourne Gaol is a must for history and architecture lovers on a tour of Melbourne.
The Gaol is a museum within the Melbourne city centre, and it was initially founded as a prison, opening in 1849 and closing in 1929.
Ned Kelly, along with 133 other infamous Australian criminals were executed here during the prison's lifespan.
Visit the Old Melbourne Gaol, and you'll see how the mentally ill and the homeless were also kept here alongside hardened criminals.
Get a history lesson on the harsh and inhumane conditions that were employed here, and it's enough to shock anyone if the ghosts fail to make their appearance.
For an even greater sense of the macabre, you'll get to see the death masks of some of the prison's most notorious inmates executed on the grounds. Creepy.
10. Get Your Thrills at Luna Park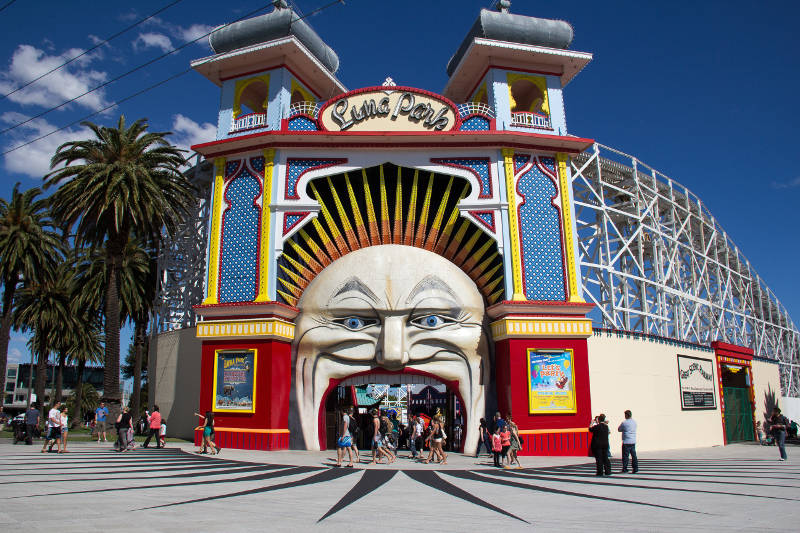 On a happier note, don't forget to check out to Luna Park.
It's one of the oldest, continuously-running amusement parks in Australia, located at the foreshore of Port Phillip Bay in St Kilda.
First opened in 1912, visitors can still ride the original early 20th-century roller coaster, The Great Scenic Railway, that runs around the entire outside of the park, providing thrills along with spectacular views of Port Phillip Bay.
With a range of attractions, from spinning roller coasters and drop rides, to the more sedate ferris wheel and carousel, you're sure to find something to suit all ages at Luna Park.
And if you're up for a marathon session and want to try out every ride that the park has to offer, they have an unlimited ride pass that will let you have your stomach churning all day long!
11. Feed the Cows at Collingwood Children's Farm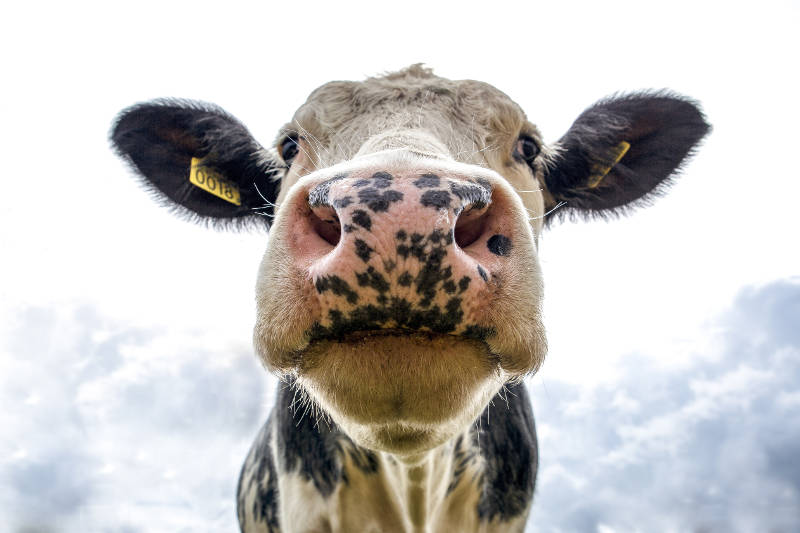 This is a not-for-profit inner-city farm located near the Yarra River in Abbotsford, a Melbourne suburb.
A fun place to visit in Melbourne for adults and children alike, touring the site will give you and the little ones a chance to learn about what it's like to own and operate a farm, without having to travel for hours into the countryside.
There are also other memorable and unique activities to do during your visit, including guinea pig cuddles, storytime, harvesting, and cow brushing.
Activities change depending on the season and the weather, so be sure to check out their website first when planning a visit here.
12. Go for a Scenic Stroll in the Botanic Gardens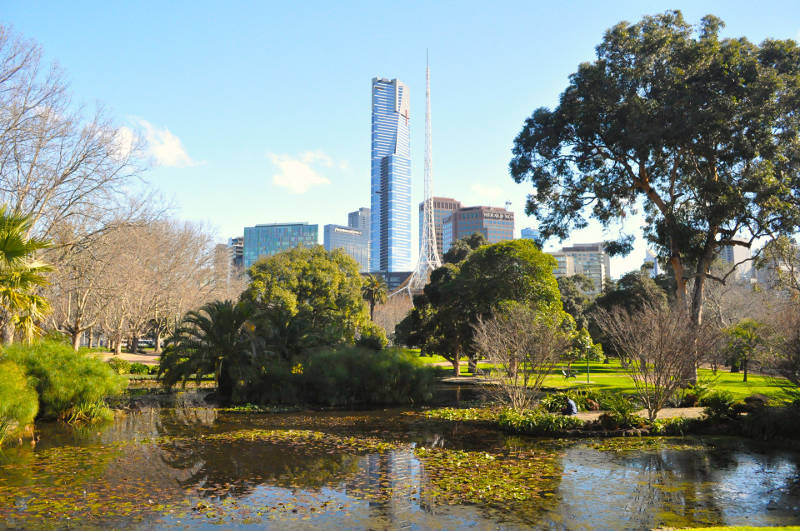 These 94-acre gardens are often referred to as the "lungs" of Melbourne.
More than two million people are reported to visit the gardens every year.
If you've ever wanted to know what a Victorian-era garden was like, then you'll have to come here for a stroll. See a wide variety of native Australian plants, herb gardens, landscaping fit for royalty, and an Indigenous rainforest.
Of course, no Victorian-style garden is complete without swans and areas for a picnic.
Pack a lunch or purchase some of the tasty cuisines here for a leisurely, scenic day that's candy for the garden lovers' eyes.
Or if you want to really get in touch with nature, book in for a Forest Therapy session and appreciate the greenery in the Botanic Gardens in a whole new way, and come out feeling very chilled!
13. Visit the Melbourne Zoo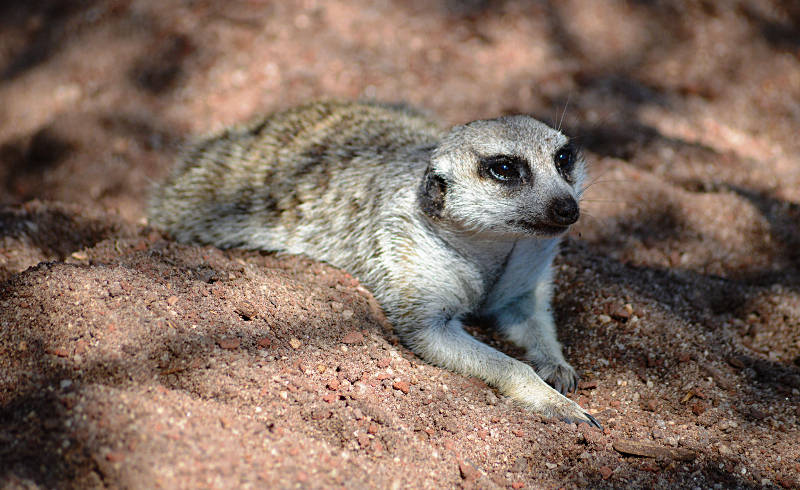 The Royal Melbourne Zoological Gardens is located in Royal Park in Parkville, just north of the city centre.
You'll see up close and personal a range of species native to Australia and then some.
See and learn about endangered and threatened species, and get a world-class education at the zoo on what you can do to protect endangered wildlife.
And if you're in Melbourne early in the year, you might also catch some music at the Zoo with their Evening twilights program, featuring a range of your favourite artists and genres, to set a relaxing backdrop as you enjoy your picnic or wandering through the exhibits.
14. Go to the Werribee Open Range Zoo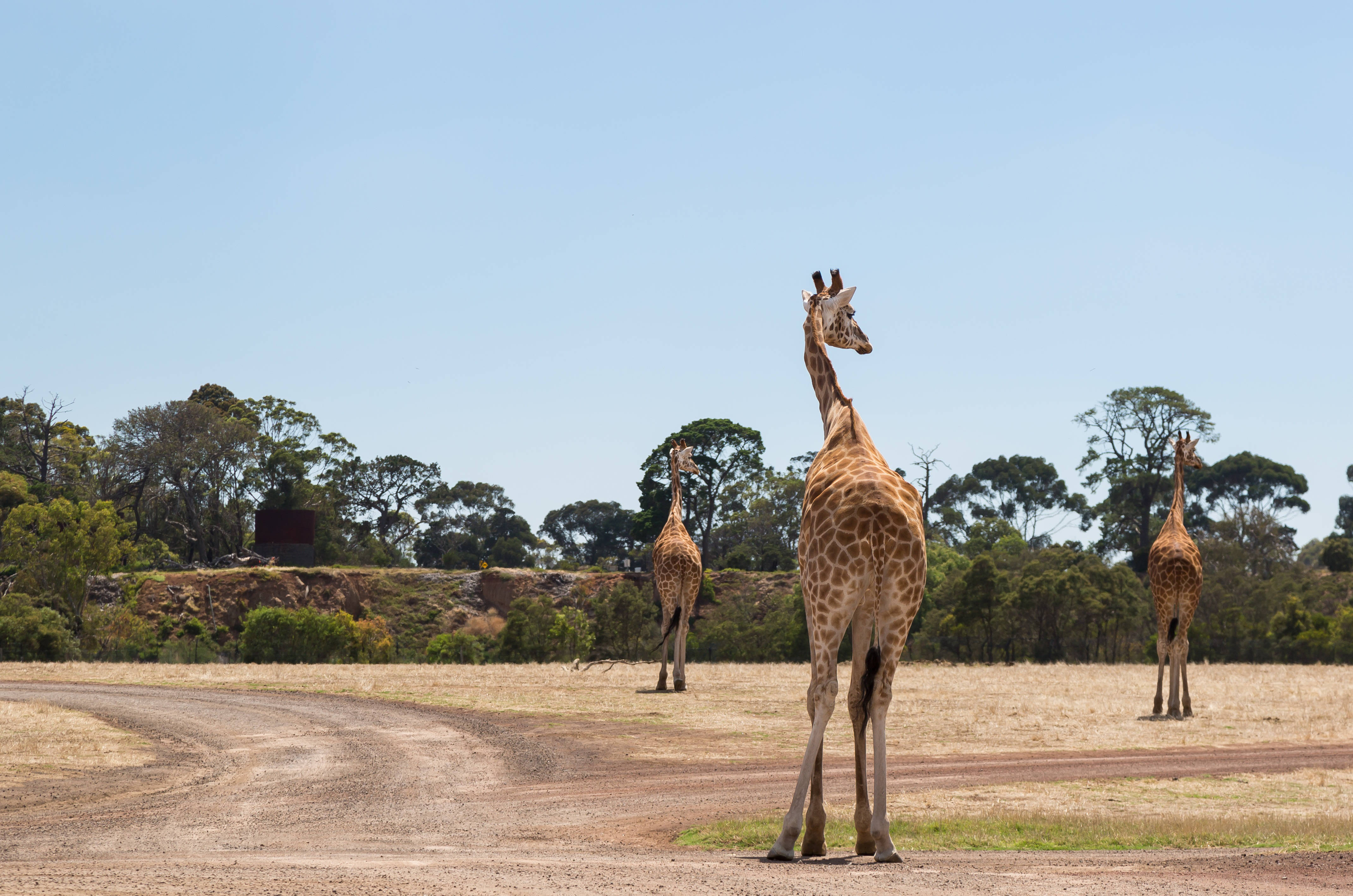 Another top thing to do in Melbourne, visiting The Werribee Open Range Zoo is like going on an exciting African Safari.
You'll get close to a variety of animals from Africa, and it makes for a great day with the family, checking out the animal, including riding through the plains in a tour bus, getting in amongst the animals as they roam.
The zoo also offers a range of events throughout the year, including Afrian music, sunset safaris and even overnight stays, if you're game!
15. Visit Scienceworks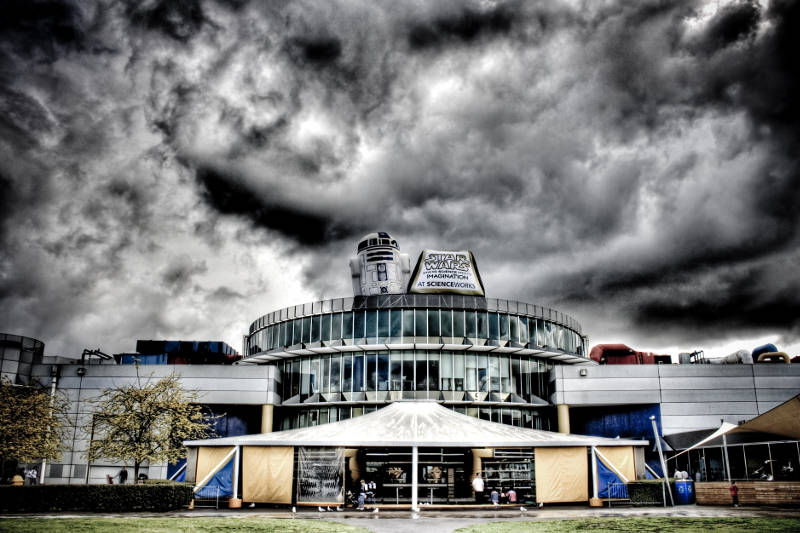 Source: https://www.flickr.com/photos/adselwood/3957792540

History, art, animal and ghost lovers have had their fun so far on this list.
But science nerds can rejoice too when they visit Scienceworks, another top thing to do in Melbourne. Yes, it's a science museum, and of course, it has a Tesla Coil.
Located in the Melbourne suburb of Spotswood, you'll find a purpose-built building with industrial-style architecture and designs.
Children and adults alike will have a blast with the hands-on experiments, tours, and demonstrations at Scienceworks, which also boasts a 120-seat auditorium for demonstrations on the impressive Tesla Coil, which can produce more than two million volts of electricity.
See it generate three-meter high lightning strikes and get a lesson on the solar system with the Melbourne Planetarium, also located within Scienceworks.
16. Browse the Queen Victoria Market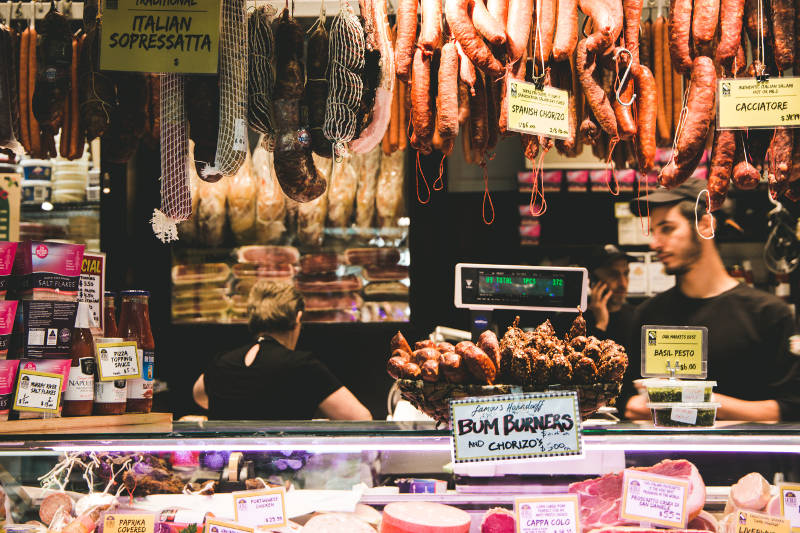 One of the largest and longest-surviving Victorian markets in the country,  Queen Victoria Market is the iconic food hub of Melbourne.
First opened back in 1878, visitors will enjoy some of the freshest, tastiest food stalls in Melbourne, along with a dizzying array of delicacies.
There are tons of different cheeses, fruits and vegetables, olives, and savory smoked meats to sample from here.
The building alone is a reason to visit. It's an impressive and charismatic feat of elegant Victorian architecture.
Head inside, and you'll find a range of locally-made crafts – prime souvenirs and gifts to bring back home to your loved ones.
Queen Victoria Market also hosts a variety of events throughout the year, so visit their website to see what's on the agenda before you stop by.
17. Check Out the View at Eureka Skydeck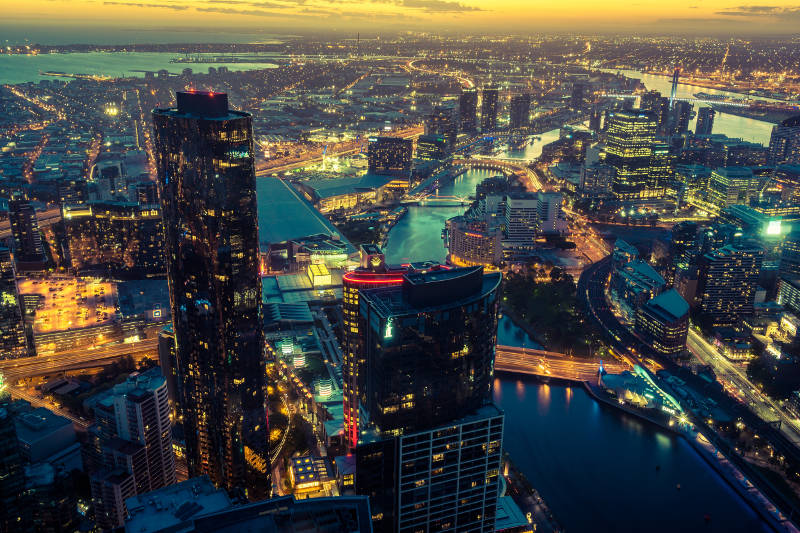 Acrophobics beware; this is not the destination for you. But if you'd like to get a bird's eye view of one of the most dynamic cities in Australia, you'll have to visit Eureka Skydeck and cross this one off the bucket list.
The Eureka Skydeck is one of the tallest public viewing platforms in the Southern Hemisphere, at a staggering 300 metres high. The tower is also the highest residential structure in the entire world.
You'd think it would take several minutes to get up to the top of the Skydeck, but nope. The architects and designers didn't just want to build the tallest Skydeck in the world, but also one of the fastest.
Hang on to your hat and try not to blink. It only takes 38 seconds to zoom from ground level all the way up to the top.
18. Go Wicked Fast in a V8 Racing Car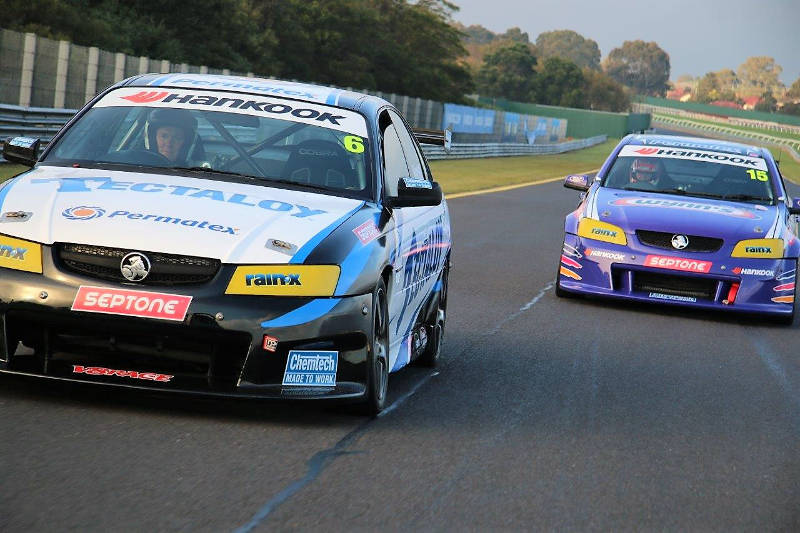 The history, art, and science lovers definitely have plenty of places to visit in Melbourne.
But what about the adrenaline junkies? Get ready petrol heads. Fastrack V8 Race can make your dreams of racing a V8 supercar come true.
More than 300,000 people have done it, and you should too if you're looking for what to do in Melbourne that's designed to deliver a massive shot of adrenaline to the veins.
Your trip to Melbourne might be going fast, but you can go faster when you book your seat behind the wheel of a V8 supercar.
19. Explore Melbourne's Dynamic Laneways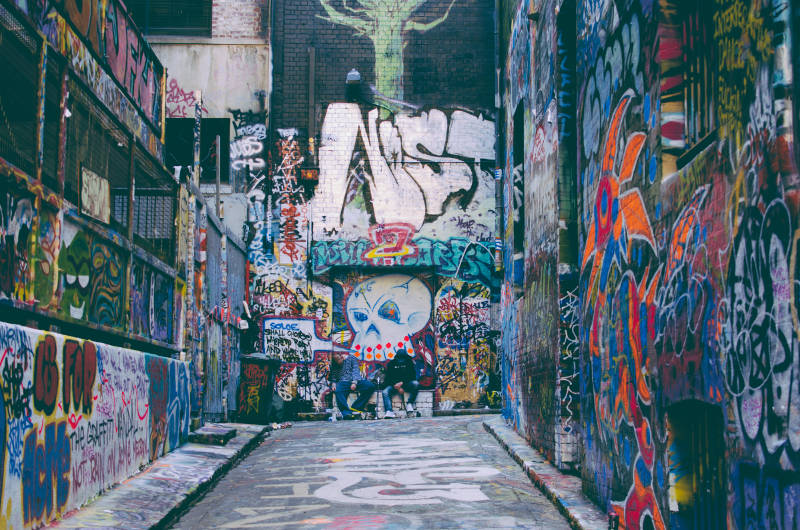 Sometimes, a leisurely walk with nowhere in particular to go can lead to an unforgettable experience.
After you've survived the thrill of racing in a V8 supercar and the heights of the Skydeck, take the day off from structured activities and set aside some time to just wander through the diverse laneways of Melbourne.
Get a map from Federation Square Visitor Information Centre or your hotel. While you're at it, grab a map of the best places to see Melbourne street art.
Another unique feature of Melbourne, the city council has set aside several approved areas for street artists to make their mark.
Because of the above-ground nature of the street art scene, visitors can catch a glimpse of some of the highest-quality street art in the world. AC/DC Lane and Centre Place are some of the most interesting ones to see and visit.
You and your family will get even more appreciation for the culture of Melbourne and things to do in this dynamic city.
20. Explore the Historic Abbotsford Convent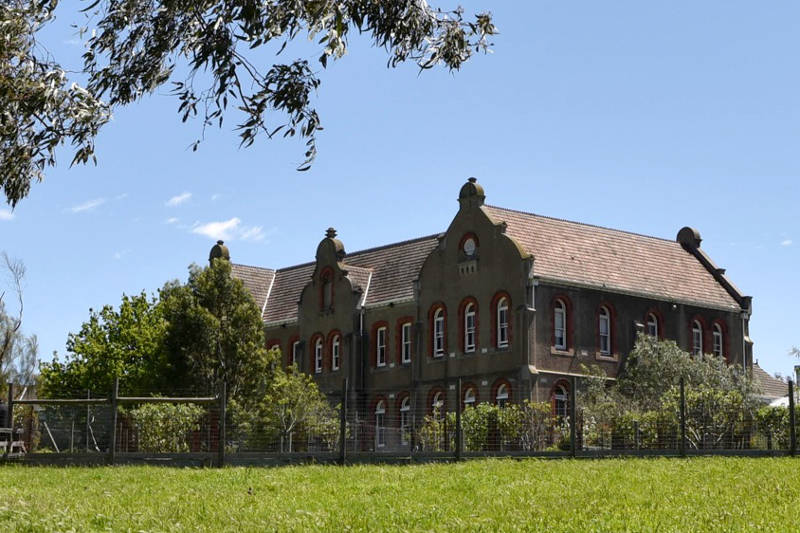 Abbotsford Convent is located in a bend of the Yarra River, west of Yarra Bend Park. Before the convent was established in 1901, the site was initially called Abbotsford House, a gentleman's farm before it became the convent.
Once established, Abbotsford became one of the biggest convents in Australia. In a time before government safety nets, convents like Abbotsford provided shelter, education, jobs, and food for the poor and disadvantaged.
It wasn't until 2017 that the convent was placed on the National Heritage List for its historical pattern of social provision in Australia.
Visitors to the old convent will find community and cultural events hosted on the grounds, with a range of artisans selling their artwork and beautiful grounds and gardens for strolling.
You can also see live musical performances and grab a bite to eat at an organic pay-as-you-feel restaurant.
21. See the Sunrise from a Hot Air Balloon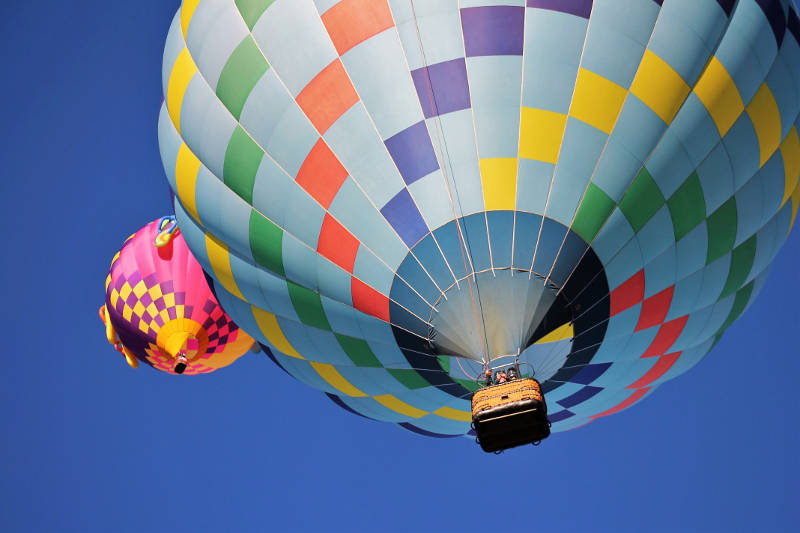 Booking a hot air balloon ride at sunrise over Melbourne would make for an unforgettable and tear-jerker of a romantic getaway.
Hardly any cities the size of Melbourne allow for hot air balloon rides right over the city, so it's not something you can do anywhere else.
If you're in the mood for a more rustic scene, you can also book a hot air balloon ride over the Yarra Valley instead of Melbourne itself.
While this list of crazy-fun Melbourne things to do is pretty extensive, it doesn't even begin to cover all the sights, sounds, and thrills you can find when you tour this one-of-a-kind city.
If you're planning a trip to Australia, make sure you add Melbourne to your itinerary and cross this great destination off your bucket list.